Sorry, I tried to post over an hour ago, but Blogger seems to be stressed. Must be drunk from celebrating with Martin.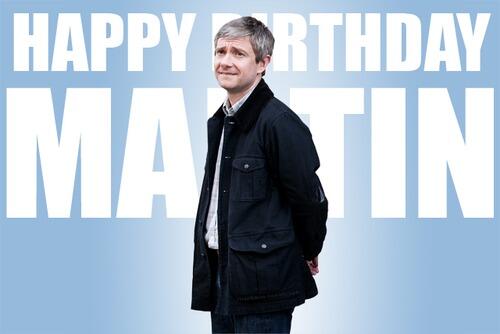 Yesterday was
Martin's 42nd birthday
; he has
become the answer
to the ultimate question!
Amanda sends thank-yous for his birthday messages
. :D
The FreeMartinis are collecting for a photobook through
10-Sept-13
: Tweet them with your images and birthday wishes!
Guys, while you're watching, don't forget to send us a pic. Let's show Martin we're here for him!!! #221bday pic.twitter.com/r20x8EYS2f
— FreeMartinis (@Free_Martinis) September 8, 2013
A quick roundup, quoting our king of sass:
Martin you are brilliant !! #martinfreeman pic.twitter.com/QGEc27O8TG
— Karen & The babes (@madmanmattsmith) September 6, 2013
Bonus: If you try the
HappyBirthdayMartinFreeman
tag on Twitter, you'll find all sorts of Martin pics, funny, gorgeous, setlock, you name it!