Today is my birthday.
I've discovered a few great birthday greetings from Sherlock [sort of] so I thought I'd share them here. Thanks to other Sherlockians this week... who were also born under the zodiac sign of Libra.
So I thought I'd make a birthday card for my fellow Sherlockians' birthdays. 8) When's
your
birthday? Happy birthday from Ben and Sherlock -- and Smaug!!
@ninja_CE Do you mean this one? pic.twitter.com/ijA2NboZRj
— twitfan (@sherfanlok) September 29, 2013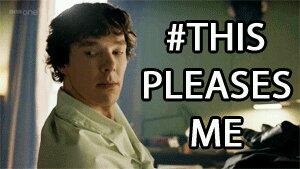 @SherlockSavedMe pic.twitter.com/fIDiw30IIS
— Consulting Fangirl (@fangirlwhowaits) September 25, 2013
ETA: Frosting!Smaug
@ninja_CE Smaug and me wish u a very happy birthday!!! pic.twitter.com/UCvRNnDqQV

— delightfully (@vereentjoeng) September 30, 2013