Remember
that Annos Africa auction
? That was announced back in July. It's all for charity, and Ben's got
a lovely suit up there
.
His suit has gone to £2650 thus far. In about 48 hours.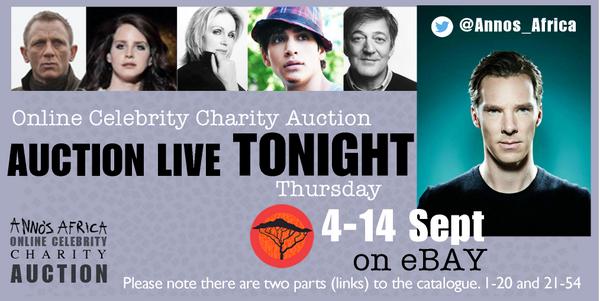 There's all sorts of lovely autographed items to bid on, given by many celebrities... and that means Judi Dench, Daniel Craig, David Tennant, Alan Rickman, Stephen Fry, Ian Holm... and onward. Do check them out!
Here's
the Daily Mail's article
for a little taste.
The auction
ends 14-Sept-2014.
Auction item
lots 1-20
and
lots 21-52
are here.
Inspirational open letter from Benedict Cumberbatch in support of the @Annos_Africa auction which begins today: https://t.co/mcrJz2z8YB
— cumberbatchforum (@cumberbatchfrm) September 4, 2014
And please, PLEASE, spread the word as far as possible. Many thanks!